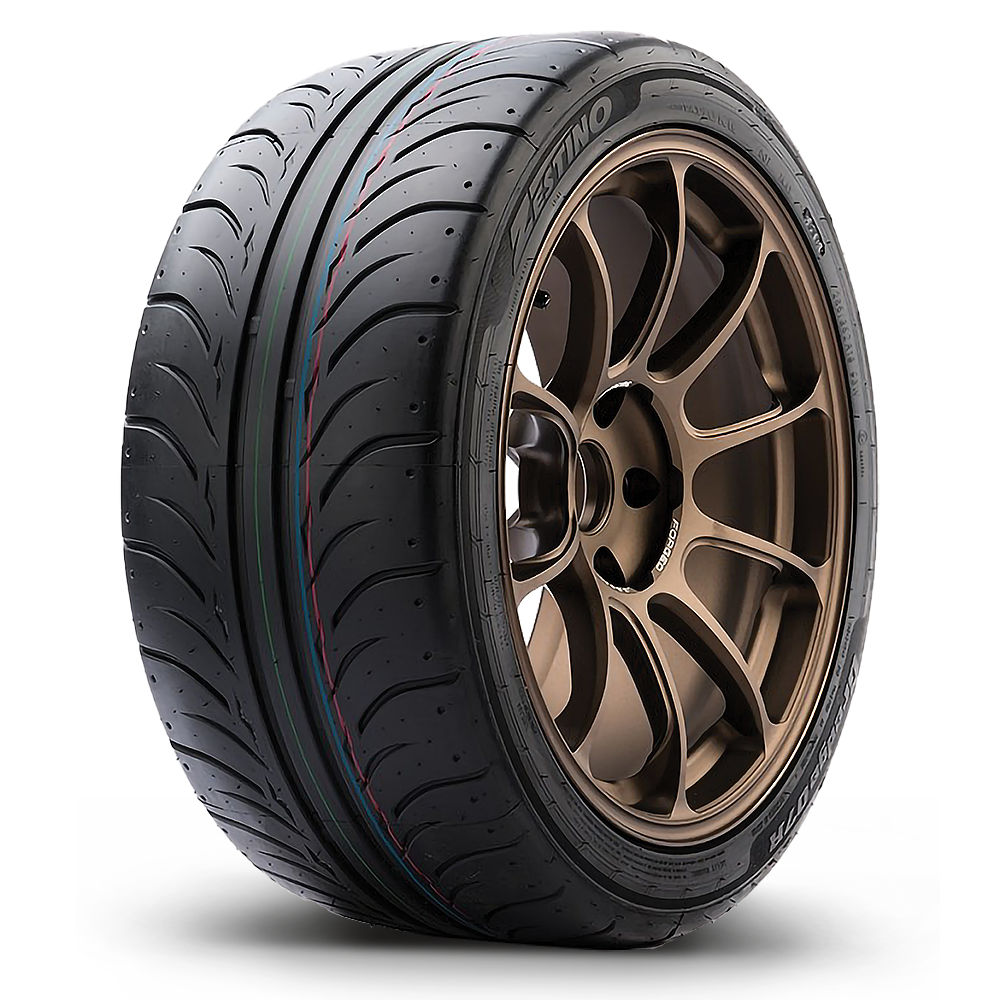 Straight Running Stability
Zestino's flagship D.O.T. competition tire has proven its capabilities globally among other higher-priced brands. The concept behind Zestino Gredge07RS is an extremely competitive tire with effective pricing.
Make no mistake: Zestino incorporates advanced design technology of a top-quality motorsports tire. The highly developed Race Compound formulation enables predictable and consistent high grip traction while maintaining longevity and consistency.
Find out why racers are impressed with the Zestino tires worldwide!
Gredge
07RS
| | Size | Load & Speed | Overall Diameter | Section Width | Tread Width | Approx Circ | Stand. Rim | Compound |
| --- | --- | --- | --- | --- | --- | --- | --- | --- |
| R15 | 195/50ZR15 | 82W | 22.7 | 7.9 | 7.2 | 71.3 | 6.0J | S+, H+ |
| | 195/55ZR15 | 85W | 23.4 | 7.9 | 7.1 | 73.4 | 6.0J | S+, H+ |
| | 205/50ZR15 | 86W | 23.0 | 8.4 | 7.6 | 72.3 | 6.5J | S+, H+ |
| R16 | 205/50ZR16 | 91W | 24.8 | 8.4 | 7.6 | 77.9 | 6.5J | S+, H+ |
| | 205/45ZR16 | 83W | 23.2 | 8.1 | 7.4 | 72.9 | 7.0J | S+, H+ |
| R17 | 205/40ZR17 | 84W XL | 23.4 | 8.6 | 7.4 | 73.4 | 7.5J | S+, H+ |
| | 205/45ZR17 | 88W | 24.3 | 8.1 | 7.4 | 76.2 | 7.0J | S+, H+ |
| | 215/40ZR17 | 83W | 23.8 | 8.6 | 7.7 | 74.4 | 7.5J | S+, H+ |
| | 215/45ZR17 | 87W | 24.6 | 8.4 | 7.6 | 77.4 | 7.0J | S+, H+ |
| | 225/45ZR17 | 94W XL | 25.0 | 8.9 | 8.1 | 78.4 | 7.5J | S+, H+ |
| | 235/40ZR17 | 90W | 24.4 | 9.5 | 8.5 | 76.6 | 8.5J | S+, H+ |
| | 235/45ZR17 | 94W | 25.4 | 9.3 | 8.6 | 79.6 | 8.0J | S+, H+ |
| | 245/40ZR17 | 95W XL | 24.7 | 9.8 | 8.8 | 77.6 | 8.5J | S+, H+ |
| | 255/40ZR17 | 94W | 25.0 | 10.2 | 9.2 | 78.6 | 9.0J | S+, H+ |
| R18 | 225/40ZR18 | 88W | 25.1 | 9.1 | 8.1 | 78.7 | 8.0J | S+, H+ |
| | 235/40ZR18 | 91W | 25.4 | 9.5 | 8.5 | 79.7 | 8.5J | S+, H+ |
| | 235/45ZR18 | 94W | 26.3 | 9.3 | 8.6 | 82.7 | 8.0J | S+, H+ |
| | 245/40ZR18 | 97W XL | 25.7 | 9.8 | 8.8 | 80.7 | 8.5J | S+, H+ |
| | 255/35ZR18 | 90W | 25.0 | 10.2 | 9.3 | 78.5 | 9.0J | S+, H+ |
| | 265/35ZR18 | 93W | 25.3 | 10.7 | 9.7 | 78.5 | 9.5J | S+, H+ |
| | 275/35ZR18 | 99Y XL | 25.6 | 10.9 | 10.1 | 80.2 | 9.5J | S+, H+ |
| | 285/35ZR18 | 97W | 25.9 | 11.4 | 10.5 | 81.2 | 10.0J | S+, H+ |
| R19 | 235/35ZR19 | 91W XL | 25.7 | 9.5 | 8.7 | 80.8 | 8.5J | S+, H+ |
| | 245/35ZR19 | 93W XL | 25.7 | 9.8 | 9.0 | 80.8 | 8.5J | S+, H+ |
| | 245/40ZR19 | 98W XL | 26.6 | 9.8 | 8.8 | 83.6 | 8.5J | S+, H+ |
| | 265/30ZR19 | 93W XL | 25.2 | 10.6 | 9.8 | 79.1 | 9.5J | S+, H+ |
| | 275/30ZR19 | 96W XL | 25.5 | 10.9 | 10.2 | 80.1 | 9.5J | S+, H+ |
| | 275/35ZR19 | 96Y | 26.6 | 10.9 | 10.1 | 83.4 | 9.5J | S+, H+ |
| | 285/30ZR19 | 98W XL | 25.7 | 11.4 | 10.5 | 80.8 | 10.0J | S+, H+ |
| | 295/30ZR19 | 100W XL | 26.0 | 11.8 | 10.8 | 81.6 | 10.5J | S+, H+ |
| R20 | 285/35ZR20 | 100Y | 27.9 | 11.4 | 10.5 | 87.5 | 10.0J | S+, H+ |